Monroe's Dehumidifier Specialists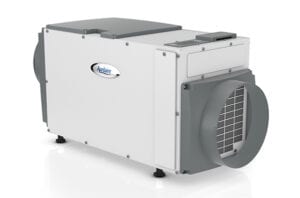 When those hot, sticky, humid days arrive, it has everyone wanting to go back inside. But what if it's humid inside too? According to the experts, the relative humidity level inside a home should be between 30% and 50%. As it gets higher, the home starts to feel uncomfortable and becomes unhealthy as it negatively impacts your Indoor Air Quality and hinders your air conditioner's efficiency. Dehumidifiers may be the answer to your problems.
At Monroe Heating & Air, we care about the air you and your family breathe. We can install a dehumidifer in your home so you can have total control of your air. Learn more about the convenience of dehumidifers.
Decrease the Humidity in Your Home
A dehumidifier is an appliance that takes moisture out of the air in your home.
A dehumidifier works by pulling warm air currents into its coils via a fan. The warm air contracts as it's fed through the refrigerated coils of the machine and condensation is left inside the dehumidifier.
As this condensation collects, one drop of water at a time, it falls into a storage tank attached to the dehumidifier. Cooler, drier air is then released back into your home through the other side of the machine.
Your dehumidifier should be able to bring the moisture in the air down to a relative humidity of 30 to 50 percent. Many dehumidifiers come with a meter that measures the relative humidity where it's placed in your home, and you can set the humidity to the percentage you desire.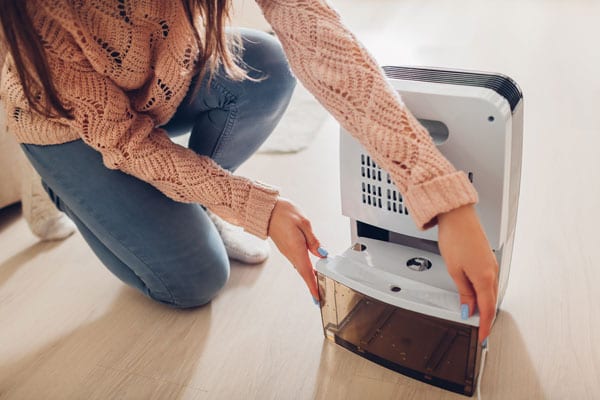 Top 4 Dehumidifer Benefits
SAFEGUARD AGAINST ALLERGIES
Smaller living spaces often have finite levels of ventilation and can become more vulnerable to certain allergy triggers. As such, particles from mold, mildew, and dust (among others) flourish when the humidity levels increase. Dehumidifiers are excellent choices to remove the moisture from the air, decreasing the likelihood of allergens multiplying.
THEY'RE EFFICIENT & QUIET
Like most central air conditioning systems, dehumidifiers rarely get noticed when looking at the home. They are efficient at drying out the air with very little sound output. Visitors won't even hear your unit.
REDUCTION IN UNPLEASANT ODORS
Things like mold and mildew aren't just bad to look at; they smell bad too. If your home has a lingering smell that is musty or rotting in the areas around your basement, bathroom, laundry room, or anywhere associated with water or dampness, dehumidifiers help in reducing and removing the odor.
PROTECTION FROM DAMAGE
The more moisture in a home, the more likely mold can develop and thrive and create damage. In addition to paying to replace damaged items, removing mold after the damage is done is costly by itself. As such, utilizing a dehumidifier in a home helps prevent these added expenses and prolongs the life of what you own.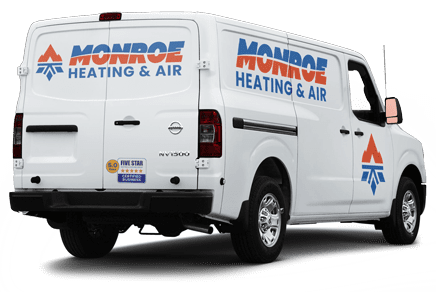 Dependable HVAC Services in Monroe, OH
Monroe Heating & Cooling customers can rest assured knowing our technicians will arrive at your home on time with a fully-stocked service vehicle, equipped with all the latest in HVAC technology. We come ready to repair or replace common parts, including ignitors, fuses, pilot lights, breakers, burners, heat strips, heat exchangers, switches, blowers, valves, air filters, control boards, and more.
—

Why Monroe Heating & Air?

Certified Technicians
Our technicians are NATE-Certified with years of extensive, hands-on experience.