Monroe's Heating Specialists
When the weather gets chilly, you need a dependable home heating system you can count on.
We at Monroe Heating & Air offer quality furnace and heat pump services that result in greater satisfaction and than any other Greater Cincinnati HVAC contractor.
If your heating system is malfunctioning, we can repair your equipment quickly and efficiently, no matter the type or brand of heating equipment. We're happy to perform maintenance services or help you find the perfect furnace or heat pump to install in your home.
Dependable Heating Services in Monroe, OH
Heating Services in Monroe, OH
Top 5 Home Heating Safety Tips
We hope you enjoy a nice cozy winter in your comfortable homes. More important than comfort, however, we recommend you keep your home safe throughout the winter and holidays. We present the following general home safety tips for homes, regardless of their heating sources and system styles.
Interested in more energy-saving tips & tricks? Check out our recent blog posts where we inform our loyal customers on the latest news and topics in the HVAC world.
1.) Use Space Heaters Carefully
Never plug more than one heat-producing appliance (like a portable stove or space heater) into a single electrical outlet at any one time. Also, remember to always turn off portable heaters upon leaving the room they're used in and especially before going to bed.
2.) Create Safe Spaces
Anything that is flammable or combustible should be kept at least three feet away from any and all heating equipment and heat sources, including furnaces, fireplaces, and portable space heaters. This area should also be a "kid free zone."
3.) Test Smoke Alarms
Don't forget to test your smoke alarms every month and make sure you have carbon monoxide (CO) alarms installed throughout your home to avoid the risk of CO poisoning and test them every month as well. Replace batteries for all alarms periodically, and as needed.
4.) Be Cautious of Gas Leaks
If you smell gas in your home or emanating from your gas heater, do not light the appliance or ignite it. Leave your home immediately if you suspect gas is leaking and call your local fire department or gas company before re-entering.
5.) Schedule Routine Maintenance
Keep your home heating system running efficiently for years to come by scheduling regular maintenance. This will curb monthly costs and prolong your system's lifespan.
We Repair Heat Pumps & Furnaces
It's possible for heating systems to start to show signs of a breakdown before it actually happens. Homeowners need to know what symptoms to look out for to detect these problems before they get more severe. If your heating unit is showing any of these signs, we recommend you schedule services with Monroe Heating & Air!
Strange Noises
It's common for a furnace to make a quiet humming sound/ However, loud crashing or banging noises is a sign of an issue.
Increasing Energy Costs
Is your energy bill increasing and you're not sure why? It could be your HVAC system not operating efficiently. 
No airflow
If your heating system is blowing with less power, or not blowing at all, it's time to schedule repair services.
Heating Maintenance Services
Schedule Heating System Maintenance Today
Our Furnace Tune-Up + Safety Check is the most comprehensive A/C maintenance service in the area. During an A/C maintenance appointment, our technicians will check the pilot assembly, burner flame, gas valve, circuit board, thermostat, and much more. Don't neglect your cooling system this summer, schedule a tune-up today!
Heating Installation Services
Get the Perfect Heating System For Your Home
If you're looking to replace your current furnace or heat pump, or purchase a brand new unit for your home, our technicians will help you choose the perfect unit for you and your family! We only carry products from industry-leading manufacturers. Schedule an installation today!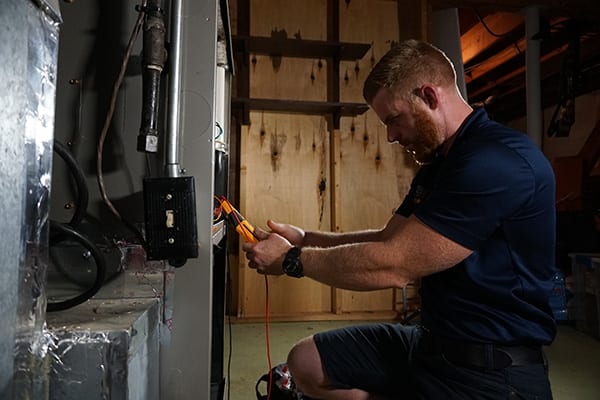 What is carbon monoxide? What should I do if I smell gas?
Carbon monoxide (CO) is a colorless, odorless, and toxic gas. The Environmental Protection Agency warns that at low levels of exposure, CO causes mild effects that are often mistaken for the flu. These symptoms include headaches, dizziness, disorientation, nausea, and fatigue. 
If you're concerned about a potential leak, evacuate yourself and any other persons/pets from inside the home immediately. Use a phone located outside of the home to call your local gas utility and/or the fire department.
How is the efficiency of heating equipment measured?
The S.E.E.R. (seasonal energy efficiency ratio) is the amount of cooling your system will deliver per dollar spent on electricity. For example, a 3-ton unit may have a S.E.E.R. efficiency rating of 13, 14, or 15. The higher the S.E.E.R., the more efficient the system will be. The S.E.E.R. rating of any given unit can range anywhere from 13 to 17.
What's the best way to extend the life of my unit?
Reducing usage is always helpful, so turn the thermostat up or down, as needed, to reduce usage when you're not at home. Changing air filters will prevent clogs. Regular check-ups can also help you ward off any potential trouble spots. Maintenance also keeps your warranty in good standing and is often recommended by manufacturers. 
What does a furnace installation entail?
To install the most efficient HVAC system in your household, a detailed inspection will first be performed by our expert installers. The inspection will include things like your home's ductwork, insulation, refrigerant piping, electrical service, wiring, thermostat, condensate piping, flue piping, flue terminations, chimney liner, slabs, filter, driers, registers, grills, drain pans, and evaporator coil.
When the cold weather sets in, your furnace is your home's winter hero, ensuring your home remains cozy and comfortable throughout the season. But,...
read more
During the frigid winter months, if your heating system unexpectedly malfunctions or there is a major power outage due to inclement weather, you and...
read more
No Matter the brand, we can fix it.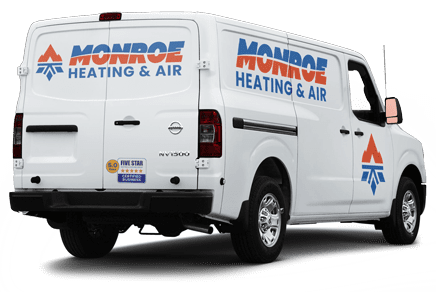 Dependable HVAC Services in Monroe, OH
Monroe Heating & Cooling customers can rest assured knowing our technicians will arrive at your home on time with a fully-stocked service vehicle, equipped with all the latest in HVAC technology. We come ready to repair or replace common parts, including ignitors, fuses, pilot lights, breakers, burners, heat strips, heat exchangers, switches, blowers, valves, air filters, control boards, and more.
—

Why Monroe Heating & Air?

Certified Technicians
Our technicians are NATE-Certified with years of extensive, hands-on experience.