Monroe's Indoor Air Quality Specialists
Looking for ways to improve the Indoor Air Quality in your
Monroe, OH
home? We've got several options for you.
Most people believe air pollution is strictly an outdoor problem, centered primarily in industrialized cities where smog and congestion can be seen as a haze drifting through the air. But what homeowners don't realize is that the quality of air in their homes can be just as bad, if not worse.
At Monroe Heating & Air, we strive to not only provide local residents with superior levels of comfort at fair price rates. We strive also to help local residents maintain clean and healthy Indoor Air Quality via superior air quality products and services. If you or someone in your home has problems with asthma or allergy symptoms, or any breathing ailment and you suspect it might be related to your indoor air quality, we have many simple, affordable solutions.
Indoor Air Quality Services in Monroe, OH
Take total control over the temperature in your home with a smart, programmable thermostat! 
UV Light gives an extra level of protection in the battle against dangerous organic air pollutants.
Indoor Air Quality Services in Monroe, OH
Breathe Cleaner Air Today
Removing or reducing indoor pollutants that are in the air we breathe significantly decreases the risk of health problems. The problem with indoor air pollution, the thing that makes it somewhat grave, is that many of the associated health issues aren't obvious immediately after an exposure. In fact, it can take years in many cases before signs surface as serious health problems.
Because of this, homeowners should investigate, and ask themselves: What types of air pollution might be floating around in the air I breathe in my home?
What is Indoor Air Quality?
Indoor Air Quality is defined as the quality of air within a building, workplace, office, or home, particularly as it is related to the health, comfort, and general well-being of the people who are breathing it inside.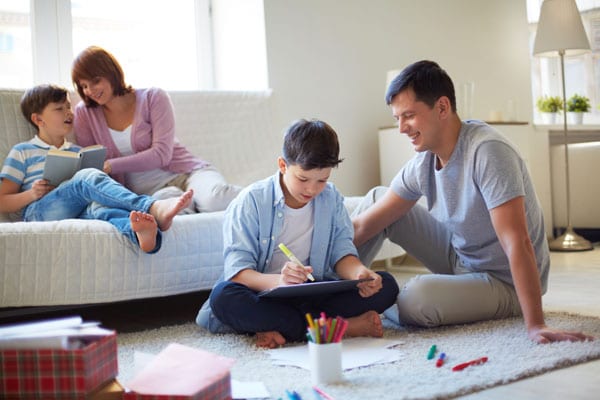 Why is Indoor Air Quality Important?
Health experts warn homeowners to be aware of the things in the air they breathe inside. Drifting around in the average residence, researchers are finding things like lead dust, asbestos, fire-retardants, formaldehyde, radon, carbon monoxide, and other hazardous gases and chemicals, in addition to mold, mildew, and most commonly smoke. Even volatile chemicals used daily in certain household cleaners are far more prevalent than most people realize. Some homes have viruses floating around, bacteria, and more.
Because most people spend an average of 90 percent of their time inside (perhaps more so now in 2020) Indoor Air Quality should be something we take into consideration, especially since most homes are sealed airtight. Lacking adequate air filtration, indoor air pollution can't escape. Health officials are raising awareness to warn people of Indoor Air Pollution; needless to say, this is an important health concern that affects our energy levels, health, mood, and overall well-being in a host of ways.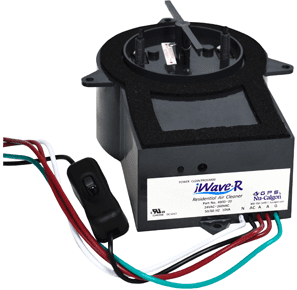 In the wake of the COVID-19 pandemic, the iWave-R has grown in popularity as being useful in ridding indoor air of possible viruses. This unique air purification system is very affordable, especially considering the quality of work it does. This highly innovative device can be installed inside any system that uses an air duct system.
iWAVE-R BENEFITS:
Self-cleaning
Kills viruses, mold, bacteria, pathogens
Does not need maintenance or replacement parts
Removes unpleasant odors and smoke from the air
Top 4 Ways to Promote Indoor Air Quality
Always Utilize Proper Ventilation
In most modern homes, a lot of indoor air quality problems come mainly from two places: The kitchen and the bathroom. For the kitchen, gas stoves are known to release dangerous gases like carbon monoxide and nitrogen dioxide. Burners and electric stoves are no exception either, as they can create some of these same gases at lower concentration levels. And let's not forget how cooking releases all kinds of smoke and particles. Because of this, whenever you cook in your kitchen, we suggest using all the ventilation you have available. The same goes for bathrooms as well.
"No Smoking"
Secondhand smoke from tobacco is the most preventable type of indoor air pollution, and yet it's among the most harmful as well. People who smoke in their homes should try to remember this, and be mindful that secondhand smoke is one of the most dangerous types of air pollution for young ones.
Clean Carpets and Rugs Often
Household carpeting, floor mats, and rugs do more than improving comfort. They also perform an air quality role somewhat like an air filter by capturing tiny particles such as dirt and dust and other impurities like dander and things brought in from the outside because they tend to trap particles in their fibers. Keeping those fibers clean by cleaning carpets and rugs (vacuuming once a week, with a vacuum that has a HEPA filter or shaking rugs off outdoors) helps them to do this better so they can improve the air quality in your home by merely laying there.
Preventative Maintenance
Our certified HVAC technicians perform an extensive list of procedures that include cleanings and examinations; they carefully analyze your HVAC system and conduct a list of system checks and inspections; they analyze the condition of your air ducts and check your system's air filters and look for any other area that merits attention.
Is Your Indoor Air Quality a Problem?
Sometimes, the quality of air in a home can be determined, in part, by looking closely at the health conditions of the people residing there and breathing the air every day, especially when it comes to certain breathing ailments. If you suspect you may have indoor air pollution, you should look at your health and the health of your loved ones in the home, especially if there isn't much ventilation or air filtration. If you or anyone else living in your home has been dealing with allergies, congestion, sneezing spells, headaches, coughing, watery eyes, and/or recurring nosebleeds, we suggest having your Indoor Air Quality tested for levels of pollution in the home. We can perform this sort of testing and are always a quick and easy phone call away.
What symptoms are often linked to poor Indoor Air Quality?
It is common for people to report one or more of the following symptoms:
Dryness and irritation of the eyes, nose, throat, and skin
Headache
Fatigue
Shortness of breath
Hypersensitivity and allergies
Sinus congestion
Coughing and sneezing
Dizziness
Nausea
People generally notice their symptoms after several hours at work and feel better after they have left the building or when they have been away from the building for a weekend or a vacation.
What are the different types of pollutants?
Here are examples of common indoor air contaminants and their main sources:
Carbon dioxide (CO2), tobacco smoke, perfume, body odors – from building occupants.
Dust, fiberglass, asbestos, gases, including formaldehyde – from building materials.
Toxic vapors, volatile organic compounds (VOCs) – from workplace cleaners, solvents, pesticides, disinfectants, glues.
Gases, vapors, odors – off-gas emissions from furniture, carpets, and paints.
Dust mites – from carpets, fabric, foam chair cushions.
Microbial contaminants, fungi, molds, bacteria – from damp areas, stagnant water, and condensate pans.
Ozone – from photocopiers, electric motors, electrostatic air cleaners.
How often should I replace my air filters?
Generally speaking, every 90 days.
How regularly you should install new air filters could depend on the following:
Air filter model
Complete indoor air quality
Number of pets
Household size
Air pollution levels and construction around the house
What Indoor Air Quality products could improve my allergies?
It depends on what you're allergic to. If dust, pet dander, or certain chemical fumes bother you, an air cleaner and purifier can remove up to 95% of the particles that cause your sniffling, sneezing, and watery eyes. If you're sensitive to microorganisms like mold or pollen, add UV lamps. When ultraviolet lights are installed in your heating and air conditioning system, they emit an electrical charge that kills these tiny nuisances instead of allowing them to grow and recirculate through your home. UV lights also kill bacteria and viruses that cause colds, flues, infections, and other illnesses, so they are a great option for any home.
As the days become warmer and brighter, so does the humidity; let Monroe Heating & Air help you create a comfortable and healthy environment for...
read more
Ultraviolet equipment offers various benefits when incorporated into your home's heating and cooling system. UV lights are a tremendous defense for...
read more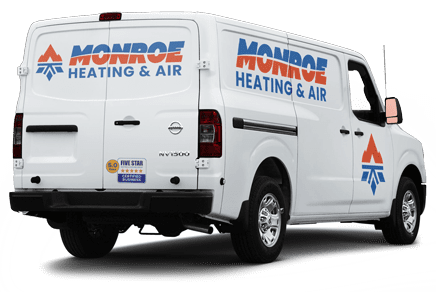 Dependable HVAC Services in Monroe, OH
Monroe Heating & Cooling customers can rest assured knowing our technicians will arrive at your home on time with a fully-stocked service vehicle, equipped with all the latest in HVAC technology. We come ready to repair or replace common parts, including ignitors, fuses, pilot lights, breakers, burners, heat strips, heat exchangers, switches, blowers, valves, air filters, control boards, and more.
—

Why Monroe Heating & Air?

Certified Technicians
Our technicians are NATE-Certified with years of extensive, hands-on experience.