Monroe's Cooling Specialists
When it's hot outside, you need a dependable home cooling system you can count on.
That's why Monroe Heating & Air offers air conditioning services that result in greater satisfaction and than any other Greater Cincinnati HVAC contractor.
If your cooling system is on the fritz, we can repair your equipment quickly and efficiently, no matter the type or brand of cooling equipment. We're happy to perform maintenance services or help you find the perfect cooling system to install in your home.
Dependable Cooling Services in Monroe, OH
5 Cooling Efficiency Tips
Get the Most Out of Your A/C
We hope you enjoy a nice, cool summer in your comfortable sanctuary, hidden away from Ohio's intense heat. To supplement that comfort, we present some energy-saving tips to keep your home cool for less while getting the most out of your A/C and increasing its lifespan.
Interested in more energy-saving tips & tricks? Check out our recent blog posts where we inform our loyal customers on the latest news and topics in the HVAC world.
1.) Utilize Windows
Use your windows to keep out hot air by installing window coverings to prevent heat gain through your windows througout the day. Find out about window treatments and coverings that can improve energy efficiency.
2.) Use Thermostat Properly
Use your thermostat efficiently by setting it to a temperature you find comfortable and that provides humidity control, if necessary. The less of a difference between the indoor and outdoor temperatures, the lower your overall cooling costs will be.
3.) Turn Up A/C When Away
Keep your home warmer than normal while you are away, and lower the thermostat setting once you return home and need cooling. One of our smart thermostat upgrades will do this for you automatically without losing the slightest bit of comfort.
4.) Utilize Fans & Ventilation
Utilize fans and any available ventilation to keep you cool. Fans create a wind-chill effect making you feel cooler, while ventilation in the bathroom and kitchen help to remove humidity, which makes you feel warmer. Your laundry room is another room that would benefit from spot ventilation if it doesn't have it already. 
5.) Schedule Routine Maintenance
Keep your home cooling system running efficiently for years to come by scheduling regular maintenance. This will curb monthly costs and prolong your system's lifespan.
Does Your A/C Need Repair?
It's possible for an air conditioner to start to show signs of a breakdown before it actually happens. Homeowners need to know what symptoms to look out for to detect these problems before they get more severe. If your A/C unit is showing any of these signs, we recommend you schedule services with Monroe Heating & Air!
Strange Noises
It's common for an A/C to make a quiet humming sound/ However, loud crashing or banging noises is a sign of an issue.
Increasing Energy Costs
Is your energy bill increasing and you're not sure why? It could be your HVAC system not operating efficiently. 
No airflow
If you're A/C is blowing with less power, or not blowing at all, it's time to schedule repair services.
Cooling Maintenance Services
Schedule A/C Maintenance Today
Our A/C Tune-Up + Check-Out is the most comprehensive A/C maintenance service in the area. During an A/C maintenance appointment, our technicians will check the pilot assembly, burner flame, gas valve, circuit board, thermostat, and much more. Don't neglect your cooling system this summer, schedule a tune-up today!
Cooling Installation Services
Get the Perfect A/C For Your Home
If you're looking to replace your current air conditioner or purchase a brand new unit for your home, our technicians will help you choose the perfect unit for you and your family! We only carry products from industry-leading manufacturers. Schedule an installation today!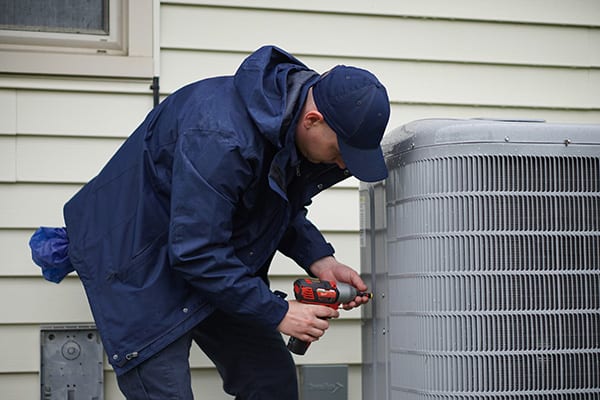 Should I repair or replace my A/C?
There are many factors to consider and each situation may vary. We'll guide you through the checklist to determine if it's time for a replacement system.
What type of air conditioner should I get?
Choosing the right A/C is crucial for efficiency. Every home and situation is different. We'll inform you about the different types of A/Cs available these days.
Why is my A/C leaking water?
If your A/C is frozen, it may leak water. Or, you may have loose piping. Leaking water can damage your home and create mold, mildew, and bacteria. 
What is A/C Refrigerant?
Refrigerant is a compound typically found in either a fluid or a gaseous state. It readily absorbs heat from the environment and can provide refrigeration or air conditioning when combined with other components such as compressors and evaporators.
When it comes to HVAC systems and the essential comfort they provide us around the clock, year after year, one thing is certain: The more you take...
read more
The HVAC equipment in your home is a necessity to your everyday living, offering comfortable temperatures and clean air for your household. However,...
read more
No Matter the brand, we can fix it.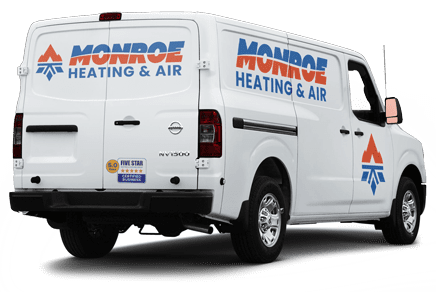 Dependable HVAC Services in Monroe, OH
Monroe Heating & Cooling customers can rest assured knowing our technicians will arrive at your home on time with a fully-stocked service vehicle, equipped with all the latest in HVAC technology. We come ready to repair or replace common parts, including ignitors, fuses, pilot lights, breakers, burners, heat strips, heat exchangers, switches, blowers, valves, air filters, control boards, and more.
—

Why Monroe Heating & Air?

Certified Technicians
Our technicians are NATE-Certified with years of extensive, hands-on experience.