Monroe's Heat Pump Installation Specialists
Heat pumps are becoming a popular option for heating up and cooling down homes in Monroe, OH.
Many homeowners are opting for an efficient, eco-friendly heat pump HVAC system – which also doubles as your central air conditioner.
If you are interested in installing a heat pump HVAC system in your home or business, our HVAC service professionals are ready to help. Our experts can answer any questions you may have and assist you in making the right decision as to which system or unit to install.
A heat pump is a type of heating and cooling unit that regulates indoor temperature in both warm and cold weather. Using a refrigerant, it extracts heat from your home in the summer and pumps it outdoors. In winter, this process is reversed – with the heat pump collecting and concentrating heat from the ground or air and delivering it through your ductwork. Even on a wintry day, there is heat to be captured from outside!
Heat pumps are traditionally associated with hot, southern states. However, heat pumps in the coldest parts of the U.S. are increasing in popularity, and are sometimes used in tandem with a furnace that may be used as a backup. This 1-2 punch allows homeowners to have total control of their HVAC system. Pair a heat pump with a programmable thermostat for next-level control.
Heat Pump vs. Furnace: What's the Difference?
During the cold months, a furnace—electric or gas—heats up your home through a heating cycle. Forced air passes through a gas-fired or electric burner and is distributed throughout the home. Heat pumps harness renewable energy from the air or ground, concentrate the heat energy in a heat exchanger, and distribute it through the home.
In the summer, a furnace sits idle while homeowners rely on a separate air conditioner unit. Heat pump owners reverse the setting on their heat pumps to cool their homes, eliminating the need for a separate A/C appliance.
Additionally, by removing hot, muggy air from your home in the summer, heat pumps assist with humidity control, reducing your need for dehumidifiers.
When to Replace Your Heat Pump
Your system doesn't have to stop working completely in order for you to consider replacing it, but there are signs that signal when it's time to replace one:
No Power
If the fan doesn't respond to raising the thermostat's temperature, a breaker may have tripped, the wiring could be loose, or the heat pump switch might be turned off. 
Short Cycles
If you notice that your heat is switching on and off frequently, then your heat pump is not working as it should.
Inconsistent Heating
If certain parts in your house are always too hot or too cold as compared to the rest, it does show that something is definitely amiss with your whole HVAC system.
Unit is over 15 years old
This one is simple – if the unit is over 15 years of age, it's time to replace your heat pump.
Quick and Easy Heat Pump Installation
Considering a Heat Pump for Your Home?
If you don't already have a heat pump and think you may benefit from a heat pump installation, there are a number of factors to consider. In almost all cases, a heat pump is an excellent investment, due to its:
Convenience:

 

A heat pump system links all of your comfort needs into a single system that's easier to service and maintain.
Energy Savings Capabilities:

 

When you compare it to other heating types, especially electric furnaces, a heat pump consumes less energy. The reason for this is that a heat pump uses its energy to move heat, instead of generating it.
Safety:

 

Today's furnaces are built with safety in mind, but any gas-powered system still puts you at a small risk of carbon monoxide exposure, something you'll never have to worry about with a heat pump.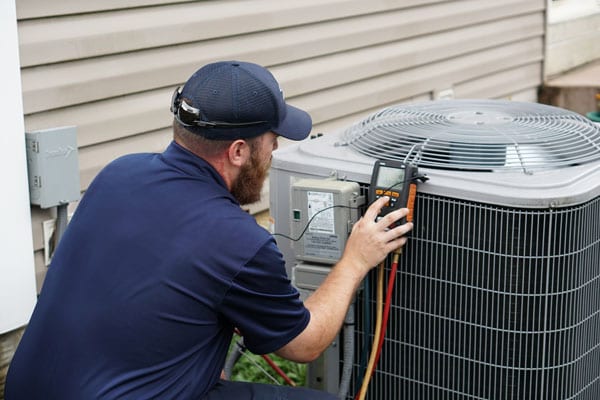 No Matter the brand, we can fix it.
We Service all Brands and Types of Heat Pumps
Our top-notch team of technicians at Monroe Heating & Air can work on all types of heat pumps and heating equipment, as well as any parts connected or used in conjunction with any HVAC system. This includes electric furnaces and heaters, gas furnaces, air handlers, ductless mini-split, and zoned systems, and all other types of heating system products.
We service all brands of heating equipment and HVAC systems, including leading brands like Carrier, Coleman, Trane, Amana, Frigidaire, Comfortmaker, Bryant, Goodman, Maytag, Lennox, Rheem, Tempstar, and more. No matter what brand of heating system you have in your home, regardless of how old or rare it is, we are the right team to call for help.
Why would I need to repair a heat pump?
Leakages — Ignoring a leaking heat pump can lead to water damage, mold infestations, and electrical issues. This could lead to more expensive repairs.
Drain Problems — A clogged drain pan could overflow and create a puddle around your pump. If the drain line is clogged, this could cause a water overflow which leads to leaks. 
Frozen Evaporator Coils —

 

Low levels of refrigerant can lead to ice forming on the cooling coils. This prevents the effective performance of the unit.
Cracked Overflow Pan — Over time, the overflow pan may begin to corrode which can lead to cracks, resulting in an overflow or leak. 
How is the efficiency of heating equipment measured?
The S.E.E.R. (seasonal energy efficiency ratio) is the amount of cooling your system will deliver per dollar spent on electricity. For example, a 3-ton unit may have a S.E.E.R. efficiency rating of 13, 14, or 15. The higher the S.E.E.R., the more efficient the system will be. The S.E.E.R. rating of any given unit can range anywhere from 13 to 17.
What's the best way to extend the life of my unit?
Reducing usage is always helpful, so turn the thermostat up or down, as needed, to reduce usage when you're not at home. Changing air filters will prevent clogs. Regular check-ups can also help you ward off any potential trouble spots. Maintenance also keeps your warranty in good standing and is often recommended by manufacturers. 
What does a heat pump look like? Do I already have one?
It's actually difficult to distinguish between air conditioners and heat pumps – they look exactly the same!
Short of asking a technician, you can search by model number online. You can also look at your thermostat and see if your thermostat has an "emergency heat' setting. Although there are a few more ways to tell if you have a heat pump, these are the simplest.
When the cold weather sets in, your furnace is your home's winter hero, ensuring your home remains cozy and comfortable throughout the season. But,...
read more
During the frigid winter months, if your heating system unexpectedly malfunctions or there is a major power outage due to inclement weather, you and...
read more
Experiencing an Emergency?
Monroe Heating & Air is available 24/7, 365 days a year (including holidays and weekends) for emergency HVAC repair. However, you can save yourself some stress and time by checking a few things before calling for service. If you find that you still need us, give us a call right away and we'll be happy to help!
Verify that your air filter isn't clogged
Check to make sure the unit has power
check for blown fuses or tripped circuits
Smell gas? call local fire dept.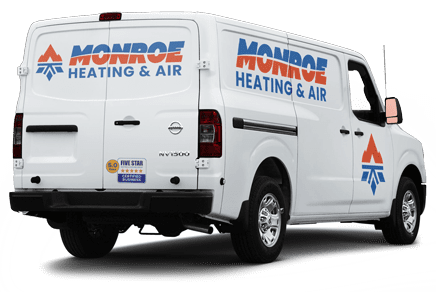 Dependable HVAC Services in Monroe, OH
Monroe Heating & Cooling customers can rest assured knowing our technicians will arrive at your home on time with a fully-stocked service vehicle, equipped with all the latest in HVAC technology. We come ready to repair or replace common parts, including ignitors, fuses, pilot lights, breakers, burners, heat strips, heat exchangers, switches, blowers, valves, air filters, control boards, and more.
—

Why Monroe Heating & Air?

Certified Technicians
Our technicians are NATE-Certified with years of extensive, hands-on experience.